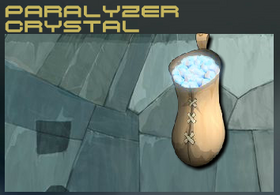 Paralyzer Crystal
Crystal Information
Purpose
Paralysis
The Paralyzer Crystal can paralyze anything it touches for a short time.
Piper gave a batch of Paralyzer Crystals to Finn to power his ammunition with. He used it to paralyze the arms of the beast called the Leviathan that ate the Condor.[1]
Appearance
Edit
Paralyzer Crystals generaly look like two rocks stuck together and are bright blue and glow.