This was the destination for the Storm Hawks during the mission to rescue Junko from the obvious Mafia Don's grasp.
The Frozen Yogurt Bar was featured briefly in the episode "Thunder Run" where the Colonel sent the Storm Hawks to get some yogurt. It apparently has the best frozen yogurt in all of the Atmos. The proprietor seems to be a very large easy going happy blond man who sells various kinds of Frozen Yogurt.
It was briefly shown from the outside to have a very large ice cream shaped central building alongside two smaller buildings with dome shaped roofs.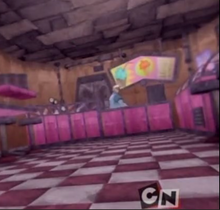 The interior is plain and very 50's diner styled. With checkerboard floors and a basic glass display case next to the proprietor's cashier counter.
It is unknown the cost of the yogurt or the prices of anything else the unnamed blond salesman has up for sale in the small shop. It's just known that there is one size for the yogurt which appears to be a giant bowl about the size of a large soup container.
It's also known that Finn appears to enjoy the pink flavored frozen Yogurt as he is seen gorging on it briefly before they leave.